Home
Neues
TestSeite
DorfTratsch
Suchen
Teilnehmer
Projekte
---
GartenPlan
DorfWiki
---
Bildung+Begegnung
DorfErneuerung
Dörfer
NeueArbeit
VideoBridge
VillageInnovationTalk
AlleOrdner
AlleSeiten
Hilfe
Einstellungen
SeiteÄndern
Ein Globales Dorfkonzept von TonyGwilliam.
http://www.give.at/give/gv95/gwilllec.htm
"Settlement patterns will tend towards spherical, biological, organic fields, radial not lineal cubic entities. We will remove barriers to assist flow between previously considered separate entities, promoting cyclic, synergetic relationships, co-existence, and more sharing. Boundaries, barriers and limits will pulse, be softer, more pervious, fewer and more fluid encouraging richness and diversity. The globally linked diverse settlement strands will share do more with less and have a symbiotic relationship with other Earth systems forming a responsive NETWORK, not a centralised structure. As technology more closely emulates living systems, nature and technology will integrate and not be easily separable. The resulting revelation of the underlying process through deep design will be sensed through everyday living in such a settlement. The self educational structure of place will cause a de-mystification and form an everyday connection with the sacred."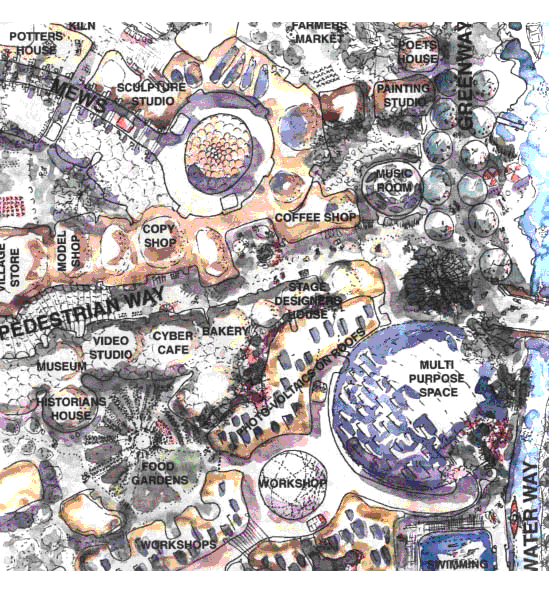 das gesamte Buch "Bring your Mind home - Building Our Global Village " ist jetzt online auf
http://www.tonygwilliam.com
http://www.tonygwilliam.com/book/Bring-Your-Mind-Home-I.pdf

http://www.tonygwilliam.com/book/Bring-Your-Mind-Home-II.pdf
Start from page 55 !!!

http://www.tonygwilliam.com/book/Bring-Your-Mind-Home-III.pdf