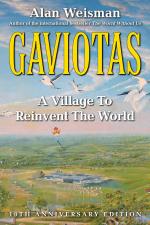 Ann Wiseman "Gaviotas, ein Dorf erfindet die Welt neu"
Gaviotas als Technologiezentrum
"Since already-existing solutions are often very costly to adapt, Gaviotas' innovations are often simple changes to a means of production that make otherwise expensive products available at affordable prices. One of the most widespread Gaviotas developments is a water pump that can tap aquifers six times as deep as conventional pumps with less effort being expended. While existing pumps in the region raised and lowered a heavy piston in a pipe, the Gaviotas engineers created pumps that leave the piston in place and instead lift and lower a cheap, light PVC sleeve around the piston (Weisman 1995)."
"Das einzige Dorf der Welt, das zusammen mit einem Wald geboren wurde"
Sendung in Ö1 am 1. Juni 2012