...on the institute of Risk Assessment today. Enjoy!
Celts: The indigenous population of Europe before the imperialistic expansion of the Roman Empire
The only village people are asked:
It's always the Celts.
AsterixGoesBrussles-Game (in German)
Ireland rejects the Lisbon treaty:
Newspage With results in from all 43 constituencies, the Lisbon Treaty has been defeated by a margin of 53.4% to 46.6%.
A total of 752,451 people voted in favour of the treaty and 862,415 voted against.
Just 10 constituencies - Clare, Dublin South, Dublin South East, Dublin North, Dublin North Central, Dún Laoghaire, Kildare North, Laois Offaly, Carlow Kilkenny and Meath East - voted in favour of the Treaty.
Tánaiste Mary Coughlan, Fine Gael leader Enda Kenny and former Taoiseach Bertie Ahern all failed to carry the vote in their own constituencies.
As the first results came in, it became apparent that opponents of the Treaty had in many places improved on the share of the vote they won in the first Nice referendum.
And unlike that vote, the defeat of the Lisbon Treaty cannot be blamed on apathy, with a high turnout recorded for a referendum.
Waterford was the first constituency to declare an official result - and it was unequivocal, rejecting Lisbon by 54-46.
This morning's tallies showed the strength of the No vote across the country, with just a handful of constituencies looking like they would vote Yes.
The margin of victory for the No side may be a bit tighter than was suggested in the initial tallies - but there seems little doubt that it is a victory.
The No vote was strong in many rural areas and in working class districts of cities, while middle class areas appeared to be less supportive of the treaty than had been anticipated.
In urban areas, middle class areas by and large appeared to have voted in favour of the treaty - but not by the normal large margin, and not by enough to counteract the large No in working class areas.
Each constituency is counting its own votes separately, before sending the result to the Referendum Returning Officer in Dublin Castle, who will announce the overall result.
Turnout is thought to have been higher than in the first Nice Referendum, which was defeated, but lower than in the second, which was passed.
(Quoted from RTé News) See also:
http://www.ireland.com/newspaper/breaking/2008/0613/index.html
With Ireland's rejection of the Lisbon Treaty, politicians and pundits in Ireland and across Europe are talking about what will happen next.
Government leaders have described the situation post-vote as 'uncharted territory'.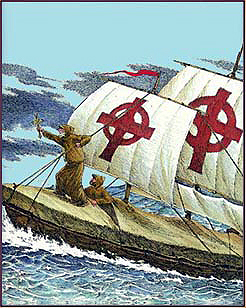 So let's hit the road to a New World.
UCP
The last voters to defend democracy
| | |
| --- | --- |
| Asterix and the Lisbon treaty | |
Britain's referendum should be cancelled.
We hope that in this case the Lords will hold the government to their manifesto commitment William Hague, Conservatives
| | |
| --- | --- |
| 14. Juni: External Links | |