PROJECT CONCEPT
Thanks to Barbara Resl ! And Nadia Meister for the photos!
| | |
| --- | --- |
| 1. Describe the project in one sentence. | |
"Grenzenlos" ("Borderless") creates a community space for integration of local inhabitants into a vibrant local life through cooking sessions, playing games, sport, singing and an annual summer festival
| | |
| --- | --- |
| 2.Describe the problem(s) the project aims to adress or the potential it aims to seize. Why is this project necessary? (max. 250 words) | |
2003, St. Andrä-Wördern/Lower Austria: A small town with 6.000 inhabitants of 64 different nations.
Most of the 650 people with non-austrian origin were living isolated in their families with few contact to the Austrian locals. In 2003 a group of 4 families (Austrian, Czech, Turkish & Kurd), had the idea to invite all the migrants in the community to cook meals together in a local event location.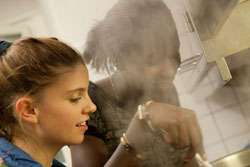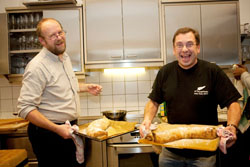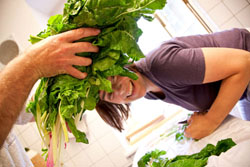 Every month they invited via local press and multilingual flyers everyone of the village. The project found great acceptance and in November 2003 the group published its first cookbook. In 2004 the group founded an association called "Grenzenlos St. Andrä-Wördern – Verein zur Integration" (Cooking without borders in St. Andrä-Wördern – Association for Integration).
| | |
| --- | --- |
| 3. Briefly describe the main activities and initial outcomes of the project. Please provide qualitative and quantitative data that show your impact. (max. 250 words) | |
In 2004 the organization started to develop other activities:
Grenzenlos Sommer (Festival without Borders) in the beautiful garden of a refugee asylum in the village.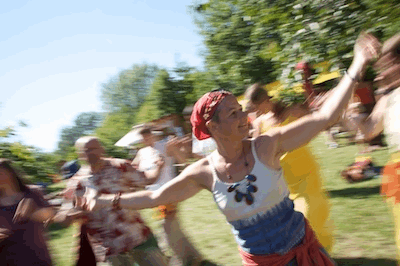 Grenzenlos Spielen (Playing without Borders)
(This and other pictures by Nadia Meister,
http://www.nadjameister.com)
In 2005 the 2nd Cooking Book was published and the group started to offer German Language courses for migrants (focused on women) in the community and formed a football team "Grenzenlos Fußball". Most of the players are refugees living in the asylum in the community.

Since 2008 Grenzenlos Singing is inviting people to the refugee home to sing and make music. Some members started to teach German and give welcome service to the refugees in the home. Since then Grenzenlos Integration is supporting refugees to attend additional German classes in Vienna.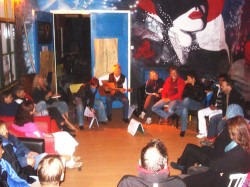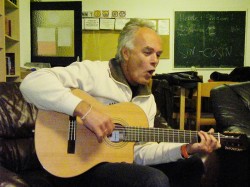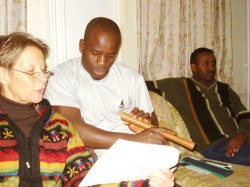 2010 the group started with an art project with the refugees. Several exhibitions showed not only their works, but their efforts for a better life to the people.

2012 Grenzenlos Werkstatt (Workshop without Borders) opened monthly its doors to everyone who wants to do handycraft and textile working in a group.

Around 400-600 people participate every year in the activities. In Grenzenlos Sommer even 1000 visitors join the activities. We published 3 cookbooks, 2 cookcalendars, 1 dvd and we supported 2 book-projects ("Kinder des Himmels" (AliReza? Göktas/Kurd) "…dorthin kann ich nicht zurück" (….)
| | |
| --- | --- |
| 4. Demonstrate how your project innovates in the promotion of intercultural dialogue, understanding and cooperation. (max. 250 words) | |
In every activity are participating various groups of migrants, coming from all over the world, and Austrians. The community recommends our activities to the newcomers to get in contact with the locals. By the means of cooking, singing and playing together we try to open a neutral and secure room to get to know each other, to respect each other and to loose fears of the unknown.
Good press references (TV, Print) made the project widely known throughout Austria and we are visited by various communities to let them participate in our experiences.
We won several awards – Rosa Mayreder Preis, Sozialmarie, Dr. Erwin Pröll Zukunftspreis
5. Briefly describe how you would use the support received from potential sponsors to expand and replicate the project during 2013. (max. 300 words)
All our activities and projects and all the work was realized voluntarily without any financial support to the activists. The costs for renting rooms, event locations, train tickets, office rent, material, sport equipment etc. were financed by the publication of books, prize money, a little financial support by the community and charity.
With your support we could emphasize our efforts towards the publication of our experiences by means of a symposium. On the other hand we are planning a project for accepted refugees to support them in their search for jobs and secure their living.
| | |
| --- | --- |
| 6. Why should your organization be selected as a winner of this call for applications? | |
(max. 250 words)
Because we are a group of voluntaries, who made a lot of experiences, which we would love to share with others. With very restricted means but open hearts we organized a project, thats worth it.